Hatice Önal
(15.07. - 24.07. 2011)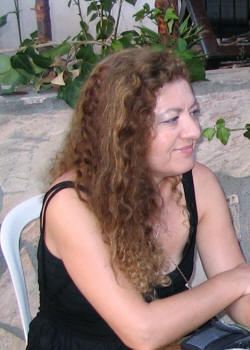 Hatice Önal was born 1956 in Burdur. She visited the primary school in Izmir and a middle school in Germany. She graduated from the Faculty for Economy and Administration in 1992 and was educated in banking, which she abandoned after some years of working for an education in painting.
She started to paint in Şeref Bigali's atelier in the year 1988 and worked between 1997-2003 in the workshop of the 4. Boyut (4th Dimension) Art Group. She cooperated with the painters Soner Göksay and Ali Koçak. Today she works in her own atelier.
The artist participated in various group exhibitions and has also showed her work in seven personal exhibitions.
"Creativity is the greatest supporter on the road to the soul's own integrity. It helps the hidden self to unite with the universal soul, the divine being. It is a known fact, that humanity would have never reached today's level without the investigative spirits of the near and distant past. Not the said but rather the hidden messages of a work of art make out its value. People think they would not be understood if they did not expose their entire knowledge, whereas it is the mysterious that awakens interest and makes sense.
The subconscious desires of creative people are hidden in their work. I reflect my deep ethical understanding, my concerns and expectations concerning my existence in the images and themes of my work as far as I can, yet I think that I can not really express my feelings and my creativity with my abstract forms and colours.
All of us should turn to our inner selves, discovering anew the concepts we already possess like conscious, love, mercy, virtue, benevolence, courage and honesty. Thus we can live the 2.Renaissance of our inner world. Art or rather creativity makes our lives significant. Besides death we can reach the divine solely through creativity."
Personal Exhibitions
February 2006, TCDDY Museum and Gallery, Izmir
11.11.- 2.12.2006, The Marmara Hotel, Bodrum
27.1.- 11.12.2006 Konak Municipality, Dr. Selahattin Akçiçek Culture Center, Izmir
12.7- 25.7.2007 JazzNow Art Gallery, Bodrum
6.6.- 13.06.2008 Municipality Art Gallery, Bodrum
19.6.- 27.06.2009 Nail Çakırhan Halet Çambel Culture and Art House, Akyaka
18.9.- 30.09.2010 Dibeklihan Art Gallery, Bodrum