Ülkü Onur (12 - 21 September)

Ülkü Onur was born in Ankara in 1943. She retired from the ministry of Public Works as an industrial designer.
In 1976, she moved to Muğla with her family. She has worked as an amateur player at Ankara Experimental Theatre for 5 years. In 1993, she did art courses under John Robinson in London. She learnt pencil and pastel drawing techniques.
In 1994, she was a student of Kayhan Keskinok and did motive courses at the State Art and Sculpture Museum. Later she did some work at Muğla Municipality Konakaltı.
She joined four mixed exhibitions at Muğla State Arts Gallery.
Exhibition Subject:
"Generally, I take nature and elements of nature. My greatest aim is to reflect them in a purer, more beautiful, modern and impressive way. I am mostly after the usual in the course of life. In addition, to give the viewer peace and make him think a little."

Exhibitions:
1995 Mixed exhibition, Muğla Arts Gallery
1996
Mixed exhibition, Muğla Arts Gallery
1997
Mixed exhibition, Muğla Arts Gallery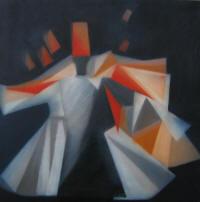 1998
Mixed exhibition, Muğla Arts Gallery
2000 Private exhibition, Nail Çakırhan-Halet Çambel Culture and Arts House, Akyaka
2001 Mixed exhibition , Modern Arts Centre, Ankara
2002,04,06 Private exhibitions,
Nail Çakırhan-Halet Çambel Culture and Arts House, Akyaka,
Mixed exhibition , Modern Arts Centre, Ankara