Gülsen Erdoğan 20.09. - 29.09. 2013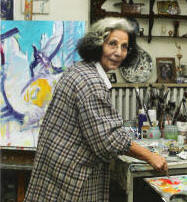 The artist was born in 1940 in Ardahan.
Between 1963-1970 she took painting lessons from her teachers Refik Epikman, Orhan Kilic and Lütfü Gunay in Ankara. From time to time she visited museums abroad and worked in art workshops. She took part in many personal, group and competitive exhibitions in Turkey and abroad. She has had 23 solo exhibitions and various collections include the artist's work. The artistis a member of the " Altılar Group" and the United Painters and Sculptors Association. She was awarded with two honourable mentions and a special award. She continues her work in Ankara.
Solo Exhibitions:
1977 State Fine Arts Gallery, Ankara
1984 Cybele Art Gallery, Ankara
1985 Doku Art Gallery, Ankara
1986 Iş Bank Art Gallery, İzmir
1986 Castle Central Section, Bodrum
1990 La Maison de la Turquie Paris
1991 Selvin Art Gallery, Ankara
1992 Fritzen Gallery, Helfort, Germany
1992 Glasshouse Derneburg, Germany
1992 "Nar" Art Gallery, Didim
1993 AOK Art Gallery Hannover, Germany
1994 Art Gallery Turkish American Association, İzmir
1994 Art Gallery Halkbank, Ankara
1994 Kloster Mühle Arthouse Lampspringe, Germany
1995 Ilayda Art Gallery Ankara
1996 "Başak" Insurance Art Gallery, İzmir
1997 Orkun Art Gallery, Antalya
1998 "Karaca" Art Gallery, Ankara
2000 Fine Arts Gallery, Ministry of Culture, Eskişehir
2000 Gallery of Fine Arts, Ministry of Culture, İstanbul
2000 "Karaca" Art Gallery, Ankara
2002 Hacettepe University Fine Arts Gallery, Ankara
2007 "Karaca" Art Gallery, Ankara
2009 Hacettepe University Fine Arts Gallery, Ankara