Ayşe Anıl 26.07. - 04.08. 2013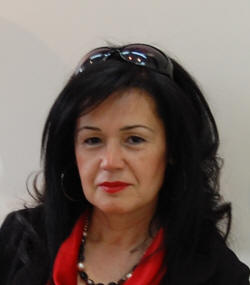 The artist was born in 1955 in Milas/Turkey and finished her education in İzmir. In 1999 she started painting. For two years she stayed and worked as an artist in Astana/Kazakhstan. Later, in 2003-5 she took lessons with Yüksel Özen and after that she joined the workshop of Ayşen Erte. The artist works in oil, water colour, acrylic, etching, exlibris and dry point. Also she is involved in photography, writing poems and short stories. She endeavours to establish a link between the past and the future; consequently she honours her country with her arts. She has joined more than thirty mixed exhibitions and opened four individual exhibitions.

Her works of art are on exhibition in Turkey, Italy, Kazakhstan, China and Serbia.
Prizes: 2005 Honourable mention Milas Chamber of Commerce,
2005 Thanks certificate from "Tekel" Corporation,
2008 Thanks certificate from "Art Academy",
2009 Appreciation from Kadiköy Municipality,
2010 Entered into the catalogue of "The Third
International Biennial Exlibris Pancevo, Danube"
2010 Entered into the catalogue of Guangzhou, "The 1st International Exlibris and Mini-prints Biennale Exhibition", China
2010 Special appreciation certificate from the Association of Academy of Exlibris, İstanbul,
Special appreciation certificate and entered the painting catalogue of Ordu Orsev
2011 Entered into the painting catalogue of "The Trabzon Femin & Art Association" and also awarded a special appreciation certificate,
2011 Obtained a certificate from "San Min Cup" International Exlibris Competition arranged by Shanghais Fuxianzhai Exlibris Society, entered into the catalogue and also her Exlibris works exhibited in Shanghais Fuxianzhai Exlibris Museum.