Seref Elial
(21.09. - 30.09. 2012)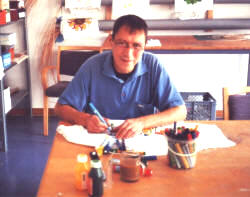 Şeref was born on the 18.09.1956 in Eskişehir, where he attended the primary and middle school between 1963 and 1971. He took his high school exam in 1976 at the A. Kanatlı Gymnasium. During his high school years he often stayed in Cyprus, where he, as a seventeen year old, was involved in the Cyprus conflict between Turkey and Greece. This left him with a livelong trauma, because both sides had recruited him for combat actions.
He studied Textile Design at the Art Academy in Istanbul between 1976 and 1977; afterwards he visited the College for Hotel and Tourism in Famagusta, North Cyprus. After serving his military service in 1978, he settled in Germany from 1980 on.
After the outbreak of a first psychosis in 1983, he started to paint during a period of stay in the psychiatric ward in the Augsburg clinic. He also worked on clay masks, which according to himself; mirror his inner self, his fear, conflict, his suffering, hopelessness and loneliness. From 1986 on he stayed for longer periods in Italy and visited Turkey often, where he tried to make a new start between 2000 and 2004. Returning to Germany he resumed painting and exhibited his work for the first time in a group exhibition of Augsburg artists in 2005.
His psychological problems intensified and his paranoid schizophrenia had to be treated with strong medication. Part of his therapy consisted of visits to "Pikasso", an association for the care of elderly and isolated persons, where he occupied himself with therapeutic painting, mainly water colours and textile painting. Besides these purely therapeutic, trivial pictures, his first detailed hand painted T-Shirts were produced here.
He was diagnosed with lung cancer on 18.09.2010 and treated several times with chemo and radio therapy. He returned to Turkey on 18.03.2011, where he died in Eskişehir on 11.05.2011.
This posthumous exhibition of his works has been initiated by his partner of many years and his friends. It should be understood as an affectionate honouring of the works of a suffering, yet highly talented person, showing a side of the person Şeref, that during his life often stayed concealed by illness and trauma.