(13.07. - 22.07. 2012)
Ismail Işılsoy was born 1953 in Ankara.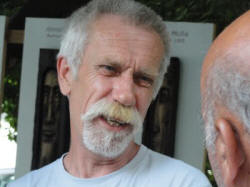 Graduated in 1976 from the Ankara Gazi Education Institute as a sculptor, the artist's theatrical personality became better known. He worked in Turkey and Great Britain for many years as actor, dramatic adviser, director, playwrite and theater designer. Alongside his dramatic art he still worked with wall paintings and sculpting; the last ten years producing wooden masks and sculptures in the village of Limnitis in Cyprus.
His "Wooden Faces of Cyprus" gave a voice to Cyprus' "soundless" screams in many cities' houses and gardens... The human artistic scream of the peace and freedom fighting island of Aphrodite! Where, just like in dramatic arts, the locations of his art in the glittering metropoles are carefully chosen by the artist, to underline the local and humble aspects of his work; the actual sharing of the shaving of the wood, its transformation can only happen and being seen in the village of Limnitis. His personal village exhibitions are continued with determination for the seventh summer now.
The Akyaka exhibition is the artist's first "Merhaba" to Gökova after a long break... In 1987 Ismail Işılsoy directed the play "Ferhat and Şirin" for a touring theater all over the villages of the province of Muğla.